French Creek Ladder Fall Arrest System
As a stocking distributor for French Creek Production, Inc., Thompson Fabricating provides custom packaged ladder fall arrest systems or vertical climbing systems to assure that ALL of your ladders are compliant with the most current OSHA regulations.
​
From a best practices standpoint, FrenchCreek has never been an advocate of ladder cages because they do not arrest falls. Thankfully, OSHA's new ruling was designed in part, to create more uniformity between the General Industry & Construction standards. This new ruling creates a framework to phase out the use of ladder wells and cages on ladders already in use, as well as requiring new ladders to be equipped with a fall protection system.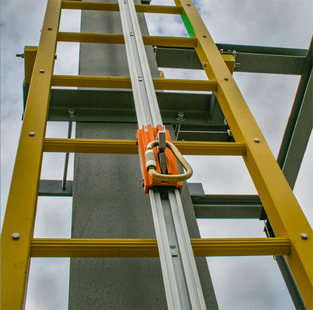 FrenchCreek's rigid rail and flexible cable climbing systems meet and exceed OSHA's newest regulations, and are easily retro-fitted to any current ladder/ladder cage to easily achieve compliance.
Vertical Climbing Products