Heavy Duty H20 Aluminum Access Hatch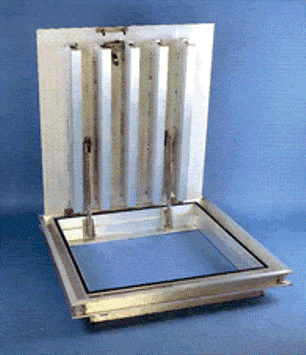 Features
1/4 aluminum tread plate
Aluminum hold open device with red vinyl grip
316 stainless steel gas springs
316 stainless steel hardware
Options
​Odortight
Gastight
Mebac slip resistant coating
Locking devices​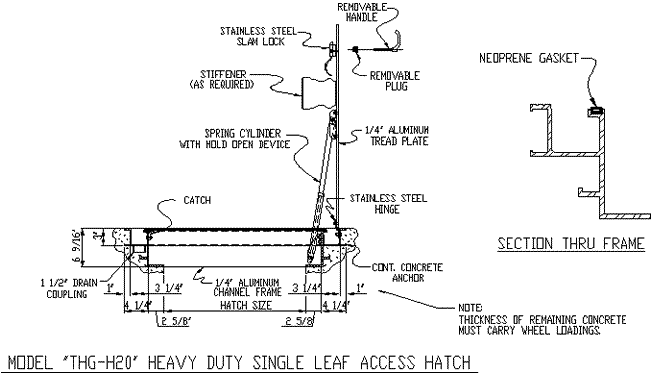 Floor access doors shall be type "TH-H20" (gutterless) or "THG-H20″ (gutter type) (WATERTIGHT, ODORTIGHT and GASTIGHT) as manufactured by Thompson Fabricating, LLC (Birmingham, AL). Door leaf shall be 1/4″ aluminum checkered plate reinforced with structural aluminum channels and shall be capable of withstanding wheel loads up to AASHO-H20 at OFF-STREET locations only. (Calculations will be provided to the engineer upon request.) The following items shall be type 316 stainless steel: slam locks, brackets, hinges and hardware. The door shall have a 316 stainless steel gas spring with integral hold open device which will assist in opening the door and shall lock automatically in the open position. The door shall open a minimum of 90 degrees. The aluminum extruded frame shall have a thickness not less than 1/4" and shall incorporate a neoprene gasket that will reduce air leakage to less than 1 CFM per lineal foot of frame when the interior of the hatch is subjected to a 2 inch water column vacuum. For type "THG" doors the gutter frames shall be provided with a 1 1/2″ threaded drain coupling. All fasteners which penetrate into the "Dry" area of the hatch shall be sealed with "O" Ring Seals to prevent incidental water and gas leakage. The portion of the frame which is in contact with the concrete shall receive a protective bituminous coating.
OPTIONS:
Locking Devices
Slip Resistant Coating
NOTES: Independent Lab Test Reports are available upon request.
All double leaf access doors shall have two interconnected slam locks which latch at both ends of the plate and can be un-latched from a single point. "Watertight" for single leaf H20 doors shall be for a 1″ to 2″ head of water.
SIZES: Heavy Duty type "H20" Access doors are available in all "TH" and "THG" model sizes.